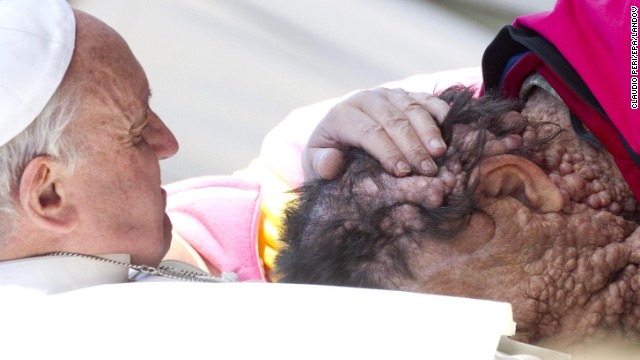 Pope Francis caresses a man suffering from a rare disease on Wednesday, November 6, 2013 in St. Peter's Square. The Pope, once again in St Peter's Square for his general audience, put his hands on the 53-year-old Italian man, kissed,       hugged and prayed with him.
Speaking earlier this week, Mr Riva said the pontiff's hug was 'like paradise', adding: 'He didn't even think about whether or not to hug me. 'I'm not contagious, but he didn't know that. But he just did it: he caressed me all over my face, and as                           he did I felt only love.
' Mr Riva recollected: 'He came down from the altar to see the sick people. He embraced me without saying a word. I felt as though my heart was leaving my body. 'He was completely silent but sometimes you can say more when you say nothing.'  'First, I kissed his hand while with the other hand he caressed my head and wounds. Then he drew me to him in a strong embrace, kissing my face.
 ====================================
"We always complain on silly issues"  "We are not satisfied on ourselves"  …
From today onwards try to Praise Lord for Lord's  wonderful gifts on you"  You are blessed with a beautiful face, but still sometimes you are not happy on yourself.  Right?
====================================