They spread rays of Love and Hope.
FeelTheCare presents here certain personalities who really make a difference in this World.
We salute them for their unselfish commitment towards transformation of the society they live in.
Let us support and follow them to promote goodness and brotherly love in the society.
They are so valuable, because they do something which we are supposed to do, but we don't do
Dr. Litty
A Christian nun and a qualified physician from Kerala.
Long back, she started a poor home with two orphans. In this noble endeavor named Providence Home, she adopts children born with serious abnormalities, whom parents normally cannot accept. Her team of sisters look after these children with utmost personal and medical care they can ever get. Now around 500 such inmates are living under their care emergent from divine love. I remember a girl child there, who has no limbs and who is also mentally challenged. The sisters kiss her and she smiles.
Contact Address: Providence Home, Kunnamthanam PO, Thiruvalla, Kerala, India.
Phone: +91 469 2693413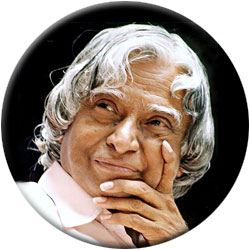 Dr. A P J Abdul Kalam
The Former President of India and a World renowned scientist
He is not only concerned about his presidential responsibilities but he is as much concerned about the children of India and their future. He gives immediate orders to the authorities if a poor or socially backward child approaches him for justice. He gives the nation a greater vision to mould the children with ethics and heavenly values to build a peaceful India. We can say, children of India are so lucky that they got such a loving and caring father, as their President and guardian.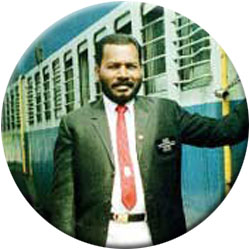 Mr. Krishnan
A Chief Traveling Ticket inspector of South Indian Railway.
Let's meet Mr. Krishnan from Kannur, Kerala. He is known to meet the orphaned children, mentally retarded and alike people inside the trains when he leaves the train after his job hours. He considers it also as his duty of humanity to take them to reliable and secure care taking facilities and constantly follow up to offer continuous help. He has been doing this for several years.
Contact Address: Chief Traveling Ticket Inspector, Kannur, Southern Railway, India.
Mr. P U Thomas
A Clerk at the Medical College Hospital, Kottayam, Kerala, India.
He walked the streets and found the mads and vagabonds roaming around, bathed them, provided medical aid, loved and transformed them into their normal self to re-inhabit them in their birth places. Later he started a Trust named NAVAJEEVAN to provide rehabilitation to such people.
This Trust has been providing free food and medicine at 3 Government Hospitals at Kottayam which costs Rs.10,000 daily for food itself. In the last 3 decades, he was able to assimilate and spent almost Rs. 10 Crores just for providing the poor and needy with what they value the most everyday – a square meal. It is estimated that he has fed 16 million mouths in this effort. Kerala Government had already given him one year extension from retirement, considering his matchless efforts towards the society.
Contact Address: Navajeevan Trust, Arpookkara, Kottayam, Kerala, India. Phone: +91 481 2596300
Mother Teresa
Founder of Missionaries of Charity and Nobel laureate for Peace.
How can a lady dedicate her entire life to the poor and needy people of a nation other than her home nation? This is true about Mother Teresa whose humanitarian feats are still a towering inspiration to millions around the World who consider doing good to their fellow beings. She taught the World the lessons of love through her actions. Many experienced God's divine love in her human self.
When we were in our comfort zones, she and her team of sisters walked through the streets of Calcutta, India where children were dying due to starvation and diseases. She started her mission from the streets of City of Joy. Today the venture initiated by her named Missionaries of Charity has 555 poor homes in 125 countries around the World. A team of about 3000 sisters and 600 brothers dedicate their life to take care of the poor and needy in these homes. Their Mission is still one of the foremost of it's kind in this World.
Mr. Sunny Stephen
Winner of the Best Music Composer Kerala State Award in 1999.
He is a renowned music composer and has won several recognitions. He founded a venture called Music Message India and spends the entire earnings from his music albums for the poor and needy people of the society. He conducts music concerts all over the world primarily to raise funds for the poor and the needy. This effort can be considered one of it's kind.
Contact Address: Music Message India, Chavara Bhavan, Ettumanoor, Kottayam, Kerala, India – 686631
Email: musicmessageindia@hotmail.com
Medha Patkar
A famous Humanitarian and Environmental Activist of India.
Medha Patkar devoted her whole life to save the lives of millions of poor and socially backward people displaced from their homeland due to Narmada Project in India, who live in the river valleys of the states, Gujarat, Maharashtra and Madhya Pradesh. Government planned to increase the height of the Dam without bothering to rehabilitate the people who live in the river valleys. We salute Medha Patkar who sacrificed her personal comfort for saving the lives of these people. The protest under her leadership is still going on in India.
Visit: www.narmada.org